U.S. Report Card Evaluating Physical Activity of America's Children and Youth
Pennington Biomedical researchers team up with the National Physical Activity Plan Alliance to release the first-ever U.S. Report Card Evaluating Physical Activity of America's Children and Youth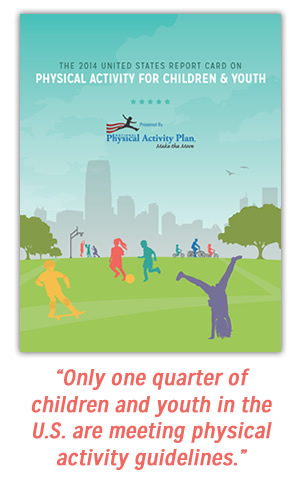 The Goal of the Report Card:
The primary goal of the 2014 United States Report Card on Physical Activity for Children and Youth (the Report Card) is to assess levels of physical activity and sedentary behaviors in American children and youth, facilitators and barriers for physical activity, and related health outcomes. The Report Card is an authoritative, evidence-based document providing a comprehensive evaluation of the physical activity levels and the indicators influencing physical activity among children and youth in the United States (U.S.). The Report Card takes an "ecological approach" to the problem of physical inactivity recognizing that many influences in which our kids live such as their family, school, neighborhood, and policy environments can affect their physical activity habits and other healthy behaviors. Recognizing and understanding how multiple levels of influence can affect behavior change toward a more active lifestyle is imperative to plan effective interventions and programs.
Furthermore, the Report Card is a resource for health statistics on children and youth in the U.S. More importantly, it is an advocacy tool which provides a level of accountability and call-to-action for adult decision makers regarding how we, as parents, teachers, health professionals, community leaders, and policy makers can help implement new initiatives, programs, and policies in support of healthy environments to improve the physical activity levels and health of our children and youth. We hope the Report Card will galvanize researchers, health professionals, community members, and policy makers across the U.S. to improve our children's physical activity opportunities, which will improve health, prevent disease and disability, and enhance quality of life.
To view or download the report card please visit the National Physical Activity Plan Alliance website at:
http://www.physicalactivityplan.org/reportcard.php