About the Program

The mission of the Pennington Biomedical Research Center is to discover the triggers of chronic diseases through innovative research that improves human health across the lifespan. Since its founding, Pennington Biomedical has led the scientific community in achieving break-though research in nutrition, obesity and diabetes. In fact, Pennington Biomedical has been recognized as having the greatest concentration of obesity research scientists and includes some of the most prolific and highly regarded obesity and diabetes researchers in the world.
Childhood obesity is reaching epidemic proportions in many countries including the United States, and obesity-related metabolic disturbances once seen in adults are now being observed in children and adolescents. The results from several cohort studies demonstrate that obesity during childhood is highly predictive of future health outcomes in adulthood and that maternal health during pregnancy can have a lasting impact on a child's health. We now know that obesity predisposes to Type 2 diabetes in adolescents. This is a condition that was rarely seen in this age group until recently, and it appears that Type 2 diabetes in adolescents is harder to control than in adults. Thus, the prevention and management of pediatric obesity is a research priority at Pennington Biomedical.
As the recognized research leader in the field of obesity and its related conditions, Pennington Biomedical is perfectly positioned to:
further the understanding of the root causes of childhood obesity and its related conditions such as diabetes
design and implement novel, evidenced-based basic, clinical and population-based studies and interventions that inform prevention and treatment strategies for childhood obesity
create a collaborative environment that engages key stakeholders at all levels to enrich and accelerate the translational ability to move research advancements to medical practice
Pennington Biomedical houses the Translational Research Clinic for Children (TReCC) which is dedicated to the study of pediatric obesity and diabetes. The TReCC is integrated within the Pennington Biomedical campus and its existing basic, clinical and translational science programs aimed towards translating research from the laboratory to the community.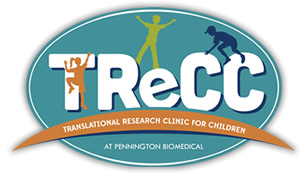 The TReCC is a 14,150 square foot research facility which allows for onsite interventions and includes:
6 examination rooms for clinic assessment visits

2 specialized procedure rooms

instrumentation to assess metabolism

Exercise room outfitted with child-sized equipment including treadmills, stationary bicycles, etc.

Activity room with child appropriate play equipment,

Demonstration kitchen with attached conference room for family meal preparation & instruction
Outdoor playground
Stand-alone pediatric phlebotomy and medical charts areas